The Red Velvet Cake War at Stars Theatre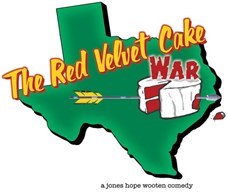 In this Southern-fried comedy, the Verdeen cousins are planning a family reunion that turns into a hilarious high stakes cook off...

STARS THEATRE
Friday, June 26th
Bus leaves at 6:30pm

Stars Theatre & Arts Center, located in the old Belks store in Fuquay-Varina since 2011, includes a 1600sf ballromm, dance studio and a 120-seat theatre where dinner mysteries, musicals and original productions are performed and various youth classes & campus taught. The old store has been given a castle-like exterior, complete with a faux drawbridge flanked by archers "who are always on the lookout for acid-penned critics!" Director Cindy Verian has offered us a great price on tickets -- only $5! -- to their upcoming production of "The Red Velvet Cake Wars" so we're going to check it out! Sign up today!
Back to News