A Favorite Space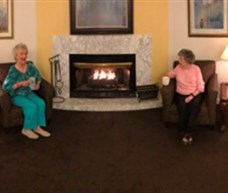 What do thoughts of below-freezing temperatures, snow and ice make you long for? Well, here at Windsor Point, it would be the warm, inviting fireplace in our spacious lobby. Hot chocolate, a glass of wine and good friends can be seen gathered there.

This fireplace has been witness to many a wonderful conversation and as one of the receptionists here at Windsor
Point
I've also heard a lot of laughter coming from those comfortably seated around its hearth.

It's one of the places here at Windsor Point I know residents enjoy most. I'm not sure whether it's the warmth it gives or the warmth it invites.

All I know for sure is Windsor Point is full of warm people... residents and staff alike. It's a place worth visiting...and living.

-Tery, Independent Services
Back to News