NYC Travel Guide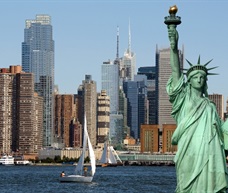 NYC Travel Guide
March 6-10, 2017
No other single destination so completely embodies the idea of "celebration" as the city that never sleeps, New York, NY... which is why we will be spending the week of Windsor Point's 19th anniversary exploring the rich culture of the Big Apple!

From food trucks and flea markets to pizza and graffiti, this week We'll wander the streets of New York City without ever leaving the confines of our community, playing checkers in Central Park, learning to bat like Babe Ruth at Yankee Stadium, testing our luck in the midway at Coney Island, seeing Broadway shows and swapping tales from our family trees as Ellis Island's Lady Liberty "lifts her lamp beside the golden door..."

Each night, we will dine like true New Yorkers. We'll sample the cuisine of Chinatown and Little Italy (Monday and Tuesday evenings, respectively), as well as enjoying a fine steak dinner at Delmonico's (Thursday) and a little pub grub at our own Tavern On The Green (Friday)...

No need to pack a suitcase. Just put on your "vagabond shoes" and let those "little town blues melt away." Get ready "to be a part of it:" NEW York, NY!
Back to News