Happy Memorial Day!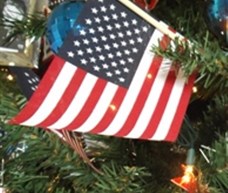 "In the truest sense, freedom cannot be bestowed; it must be achieved."
-Franklin D. Roosevelt

Memorial Day, coming up this weekend, is for remembering those who have died fighting for our country.

Enjoy the barbecues, baseball games and shopping this Memorial Day weekend. But remember for a moment that Memorial Day is an important day in America. It's a day to give thanks, to pay tribute and to remember those who gave their lives to protect our country. In reality, we should be thankful every single day of the year, but the third Monday of May is the official day where we all come together to honor our fallen soldiers.

On Memorial Day, pay a tribute to the sentinels of peace. Sing praises of the brave soldiers who marched forth on unfriendly terrain, come rain or snow, so that we could sleep peacefully knowing that our country is safe.

"Let every nation know, whether it wishes us well or ill, that we shall pay any price, bear any burden, meet any hardship, support any friend, oppose any foe to assure the survival and the success of liberty."

-John F. Kennedy

From our family to yours, Windsor Point wishes everyone a safe and happy Memorial weekend!
Back to News