Halloween Spooktacular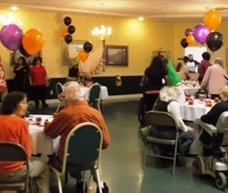 Residents and staff alike enjoy a good reason to dress up and have a fun time. Halloween is no exception!
Festivities for our "Halloween Spooktacular" started with face painting , decorating your ride (if you use a cane, walker, or wheelchair). Residents and staff lined up to use their creativity and have their costumes on their face, others decked out their assistive devices with spider webs, bats, and colorful garland.
Special characters took the place of several staff members today. These characters include several bugs, a mad scientist, candy, and even a broken wind up doll. Our costume contest winners were the "MAD" scientist, a minion from the movie Despicable Me, and our broken wind up doll.
To see more pictures find us on facebook!
Back to News