Christmas at Windsor Point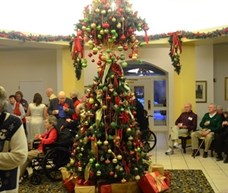 We are a retirement community to those who are driving by, but to those who call Windsor Point home we are a family. So what does being family at Windsor Point mean during the Christmas season? It means lots of way to come together and many memories made. We have several Christmas parties throughout the property, great food, and entertainment that truly puts us in the holiday spirit.

Here is one of the many praises that we received following our first party to kick off the season...

D. and I want to thank you for the lovely Christmas party last night. The eggnog was delightfully naughty; the dinner was scrumptious as always, but being old hands at this we knew to go easy on filling our plates to leave room for the enormous shrimp and the fabulous desserts. The ice sculpture was lovely and the entertainment sang lots of the old songs that my daddy used to sing, and I enjoyed the memories.

We are truly appreciative of Windsor Point.

Love,

D. and C.
Back to News