Fall In Love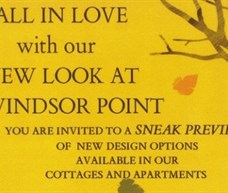 Fall in Love with our new look at Windsor Point! -- Windsor Point is now offering new design options in our cottages and apartments. These spacious homes are already well-planned and comfortable, but now can be even more stylish with our new design touches.

You may choose from custom paints, natural surface counters and updated fixtures to name a few to make your living space fit your personality.

Please join us on Wednesday, September 24th between 10am -12pm so that we may show off our new design options. Contact Brad or Kim in the Marketing Dept, at 919-552-4580 to schedule your visit and learn more about the new designs available.

But hurry! The sooner you make the move... the sooner you can begin to enjoy the worry-free lifestyle of living at Windsor Point.

We welcome you to make our home your home!


Back to News