The Lifestyle at Windsor Point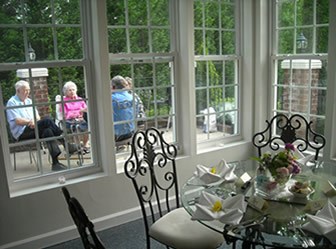 Activities
Whether you like to sing or dance, exercise or shop, play games, watch movies or go to museums, you'll find something to look forward to on Windsor Point's activities calendar each month.
Exercise classes, including strength training, dance aerobics and chair exercises, are offered every weekday in Windsor Point's fitness room, which also includes a variety of exercise equipment as well as yoga and tai-chi videos, a VCR and television. Don't mind getting wet? Why not walk or swim a few laps in Windsor Point's heated indoor swimming pool.
After supper on Monday nights, there's line dancing in the auditorium, and on Tuesday mornings, residents gather around the piano to sing their favorite tunes. Twice a month, there's a discussion groups covering topics such as "Where were you the day Pearl Harbor was bombed?" and "What makes you laugh?" Or, for those who prefer to express themselves with pen and paper, there's a Memoirs Writing class led by Windsor Point resident and award-winning author, Lila Hopkins.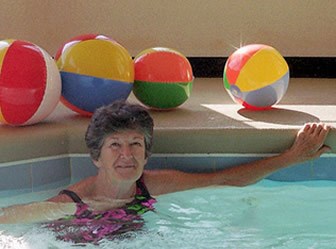 Wednesday afternoon bingo is big at Windsor Point, and our bridge teams meet several times a week as well. Hardly an evening goes by that there's not a Rummikube or Skip-Bo game being played in one of our lobbies.
For those who prefer to sit in the audience, Windsor Point is often visited by performing groups from area schools and churches, as well as the occasional professional artists. If your favorite seat is in front of a big screen, Windsor Point offers movie nights showing everything from golden oldies to recent releases (and when we just can't wait for the DVD, we head for the local cinemas!)
Windsor Point residents like to go, Go, GO! A week never goes by without residents being invited to board the Windsor Point bus for a shopping excursion or lunch on the town, and our "Breakfast Club" ventures out twice a month in search of that most important meal of the day. Our proximity to North Carolina's state capitol and museums, several universities and numerous historic sites also offers endless cultural and educational opportunities.
Finally, Windsor Point frequently offers trips out-of-town to places like the Biltmore House in Asheville, Old Salem and Tryon Palace in New Bern, as well as to exciting destinations out-of-state.
Amenities
Windsor Point offers an array of amenities for our residents.
Beautiful dining rooms
Indoor pool and fitness center
Library and media center
Convenience store
Beauty shop
On-site pharmacy
Full-service bank
Billiard room
Activity directors for all levels of care
Garden room